In the News
"Female lobbying firm thrives in male-dominated Capitol"
CALmatters, Feburary 23, 2016 — By Laurel Rosenhall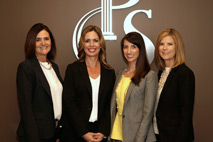 Photos decorating the Political Solutions lobbying firm look like those inside many similar businesses in Sacramento. One shows a firm partner on the golf course with a former assembly speaker. In another, three lobbyists smile alongside Gov. Jerry Brown.
Then there's a poster-sized picture indicating something here is a little different. Against the backdrop of the Capitol dome, it's a close-up of a pink high heel.
"We didn't purposely set out to have a female-owned firm," said partner Tami Miller.